ANGLAIS
- I present to you my new surrealist professional project. i had a request for a pregnant woman, make a creative image. So I imagined that a woman who was expecting a child should be happy as if she was on her little cloud ... And there a whole story occurred to me.
FRANCAIS 
- Je vous présente mon nouveau projet professionnel surréaliste. j'ai eu une demande pour une femme enceinte, faire une image créative. J'ai donc imaginé qu'une femme qui attendait un enfant devait être heureuse comme si elle était sur son petite nuage... Et là toute une histoire m'est venue.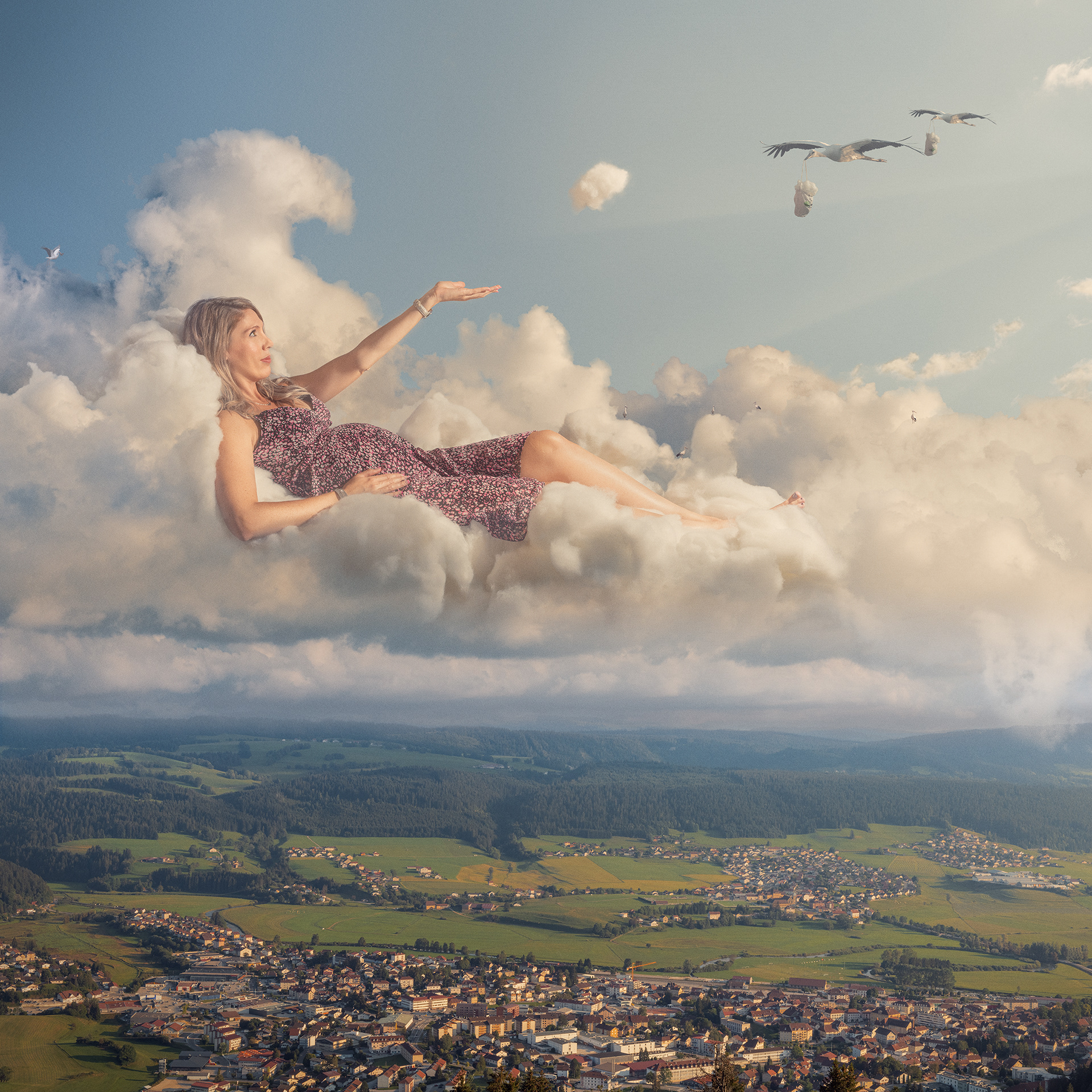 ANGLAIS
- You can discover the video "project completion" which reveals a small part of the work of my project "Life in the clouds". I did it in two months, taking into account: the development of the idea, the grouping of materials, the construction of the clouds, the overall planning, the shots, the editing in Photoshop and the construction of the video "Project completion". This photo includes 101 layers in Photoshop, the file size is 9GB, the size 8500 pixels x 8500 pixels. 
FRANCAIS 
- Vous pouvez découvrir la vidéo «achèvement du projet» qui dévoile une petite partie du travail de mon projet «La vie dans les nuages».
Je l'ai réalisé en deux mois, en prenant en compte: le développement de l'idée, le regroupement des matériaux, la construction des nuages, la planification global, les prises de vues, le montage sur Photoshop et la construction de la vidéo «achèvement du projet». 
Cette photo comprend 101 calques sur Photoshop,
le poids du fichier fait 9Go, la taille 8500 pixels x 8500 pixels.

ANGLAIS
- It took me a year and a half to design my image because again all the details and shots are photographed by me. No photos are taken from the internet or from image banks. It also took a lot of thought, patience and inventiveness for the many shots and the Photoshop work. This creation has 784 layers since it is a large image 
I made a little video clip as usual to show you the time I take for an element of my image. You can imagine the long work for all the details in the photograph. It took me a year and a half to make it.
FRANCAIS 
- J'ai mis un an et demi à la conception de mon image car encore une fois tous les détails et prises de vues son photographiés par mes soins. Aucune photo ne provient d'internet ou de banques d'images. Il m'a fallu aussi beaucoup de réflexion, patience et d'inventivité pour les nombreuses prises de vues et le travail sur Photoshop. Cette réalisation comporte 784 calques puisqu'il s'agit d'une image de grande taille 
J'ai réalisé un petit clip vidéo comme d'hab pour vous montrer le temps que je prends pour un élément de mon image. Vous pouvez imaginer le long travail pour tous les détails de la photographie. Il m'a fallu un an et demi pour la réaliser.

ANGLAIS
- Video clip of part of the construction process of one of my surreal "timeless" images.Always in the same spirit, an idea, a sketch, planning, preparation, equipment, places, shots, editing. All this with the greatest respect for detail and realism.
For those who want a quality image, a different experience for your visual and on any media, do not hesitate to contact me by email:contact@brunobeuret.com"I do not immortalize a given moment, but a thought, an idea"

FRANCAIS 
- Vidéo clip d'une partie du procédé de construction d'une de mes image surréaliste «hors du temps». Toujours dans le même esprit, une idée, un croquis, une planification, une préparation, du matériel, des lieux, des prises de vues, un montage. Tout cela dans le plus grand respect du détail et du réalisme. 
Pour celles et ceux qui désirent une image de qualité, une expérience différente pour votre visuel et sur tout supports,  n'hésitez pas à me contacter par mail : 
contact@brunobeuret.com
«Je n'immortalise pas un instant donné, mais une pensée, une idée»
ANGLAIS
-​​​​​​​ 
A job I did for the rock group "Serge Band" for their new album cover "Hors du temps". I really appreciated the meticulous work of several months alongside the group for this achievement from another time.
FRANCAIS 
- Un travail que j'ai réalisé
pour
le groupe de rock "Serge Band" pour leurs nouvelle couverture d'album "Hors du temps". J'ai beaucoup apprécié le travail méticuleux de plusieurs mois aux côtés du groupe pour cette réalisation sortie d'un autre temps.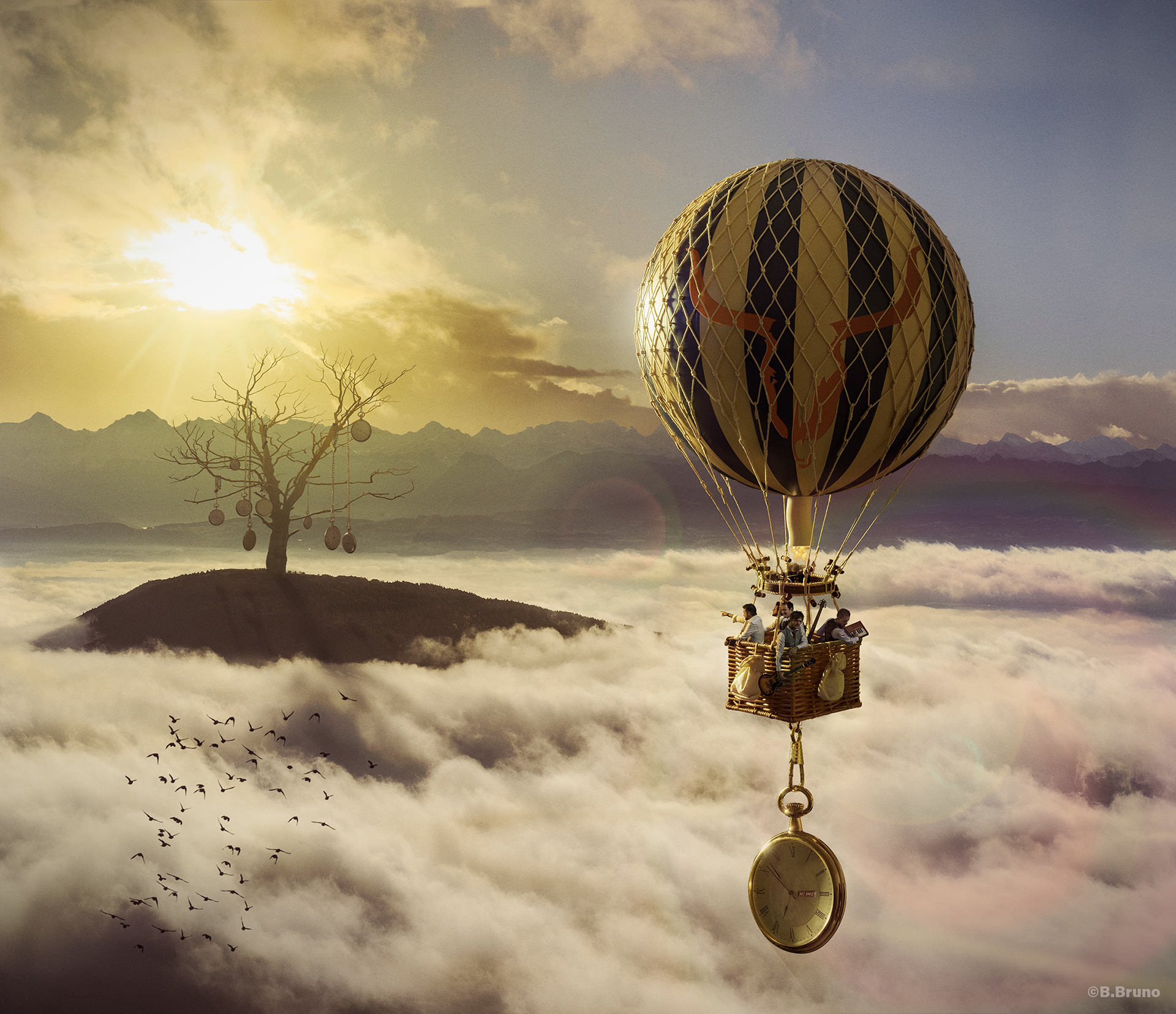 ANGLAIS
- A new project carried out in several months, the planning was done in head. Still in the same principle, all the photos are taken by Bruno. Many pictures have been taken in order to have a real consistency, once the puzzle of 140 overlapping layers is completed.
FRANCAIS 
- Un nouveau projet réalisé en plusieurs mois, la planification a été faite de tête. Toujours dans le même principe, toutes les prises de vues sont réalisées par Bruno. De nombreux clichés on été pris afin d'obtenir une réelle cohérence, une fois le puzzle de 140 calques imbriqués terminé.  

ANGLAIS
- You can discover a slideshow video showing a tiny part of the photographic work of the "Eradicate" image. This image built at the beginning of the year illustrates the eradication of a foreign body in our life.
FRANCAIS 
-​​​​​​​ 
Vous pouvez découvrir une vidéo diaporama montrant une infime partie du travail photographique de l'image "Eradicate". Cette image réalisée en début d'année illustre l'éradication d'un corp étranger dans notre vie.

ANGLAIS
- ​​​​​​​Below you can discover the process to create a simple surreal image. On the short video you can see the result seen up close. As the images are always designed for large format printing, Bruno works a lot on the details.
FRANCAIS 
-​​​​​​​ 
Vous pouvez découvrir ci-dessous le procédé pour créer une image surréaliste simple. Sur la courte vidéo vous pouvez voir le résultat
 vu de près. Les images étant toujours conçues pour une impression grand format, Bruno travaille beaucoup les détails.